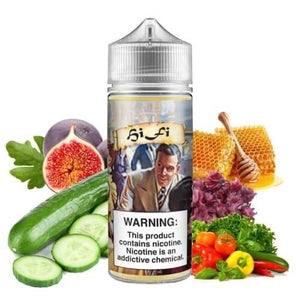 Flavor: Cucumber, Hibiscus, Honeysickle, and Fig flavor
Experience the markets of Morocco and savor the finest ingredients available with HiFi,an organic and fresh earthy taste. It has a nice crispy cucumber that collides with the mild vegetable and plant taste of the delicious hibiscus. We added upon that with a sweet honeysuckle, and even a ripe, plump fig.
After travelling to Morocco and seeing the streets filled with natives and the finest of products available locally, we wanted to create something truly different to satiate even the most adventurous vapers taste buds. Incorporating elements of a fresh cucumber, tropical hibiscus, sweet honeysuckle and a ripe fig, Hifi was born. With each and every vape of this flavor you will be instantly feel that not only is this flavor truly unique but well crafted. Too often companies go for strange flavors to entice the first time buyer with no hopes of ever seeing them again. With Hi-Fi, not only are we confident that there is nothing else like it, but that you will love it, just as hundreds before you have. High Class was able to think outside the vaping box and create something new, and succeeded. We are ecstatic to feature this tropical vegetable vape on our website. Looking for something completely new and exciting? Give this eliquid a shot, you won't be disappointed in what it brings to the table.