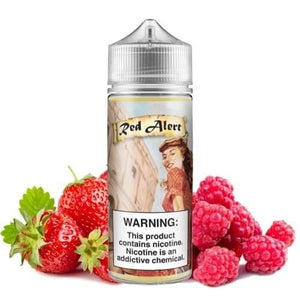 Flavor: Strawberry and Raspberry citrus soda
When in Rome, experience this citrus mountain soda soaked with sweet strawberries, and fresh picked raspberries. A very classy and uplifting taste.
Have you ever thought about what it would be like to try a soda vape? Well High Class did and they killed it with this flavor! Red Alert is the perfect compliment to anyone who loves the popular Code Red soda. The berries on this unique vape flavor are very easy to pick up at the forefront of each inhale and the citrus-y taste that you would expect from a soda vape comes immediately through on the exhale. Even if you are just a fruit or berry lover this will satisfy almost any vapers cravings and keep you coming back for more every single time. Lucky we offer a five pack to order a month or two's worth of eliquid... Want to vape the day away all while smelling like fantastic raspberries and strawberries with the satisfying sensation of drinking a soda without having to actually drink one... Get Your Red Alert today and experience the best soda vape flavor you have ever had.