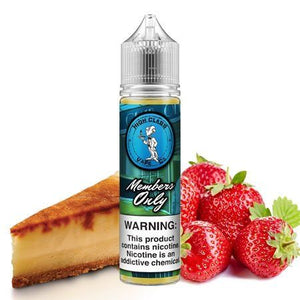 This Flavor Contains: Rich Strawberry Cheesecake, Custard and Cream.
In N.Y., the most thriving and bustling spot to be; your Membership includes the top flavors of rich strawbery cheesecake, a decadent custard and cream. This vape is a winner! New York is like our second home, every year we visit we are reminded of the quality of the fresh food, the top notch bakeries on every city block and of course the scenery. We feel that with each puff of this original Members Only vape liquid you will feel like you are on top of the world. With each bottle of Members Only you will receive our stylish and sophisticated Chubby Gorilla bottle that is reminiscent of New York City, the thriving metropolis full of classy people hustling and bustling to make something of themselves to go with your pre steeped premium eliquid and comes complete with the easy to use dripper top for your convenience. Try this delicious strawberry cheesecake with custard and cream today!
Get our Members Only ejuice and experience this exclusive vapor liquid only meant for the finest of palletes and those who want that premium ADV. Welcome to the world of High Class Juices, Members Only!