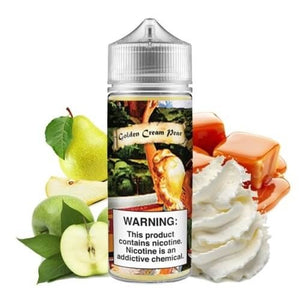 Golden Cream Pear: Flavor: Pear, Green Apple, Caramel, Whipped Cream
Travel along the hills of Italy and enjoy a perfect pear-adise with Golden Cream Pear. We took the succulent pear, doused it with caramel, adorned it with fluffy whipped cream, and drizzled on-top... a green apple glaze!
Coming from the hills of Italy High Class brings you a pear-adise of these green apple, caramel and whipped cream flavors. Italy is known to create some of the best cuisines and flavors the world has ever seen. Vaping Golden Cream Pear is like taking a fresh Green Apple right off the tree, giving it a good rinse and taking a big bite. Experiencing the juices and tartness of the apple coupled with the sweetness of the caramel that tastes like it was poured on top of the apple. And that's just the inhale... On the exhale you get a repeat of all those flavors but with the added bonus of a high quality cream that completely transcends the entire experience. Give this vapor liquid a try and experience the sophistication of Italy without having to buy that expensive plane ticket. Get Yours Today!