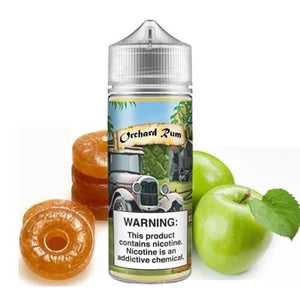 Flavor: Butter Rum and Green Apples
Experience the tropical bliss of the Caribbean with Orchard Rum,a sophisticated spiced butter rum, aged in the hull of a scooped out green apple bowl.
Imagine traveling through an apple orchard or on the Caribbean, picking the finest apples off the branches and pairing those flavors with some good old fashioned rum from the Caribbean. We created this flavor for those green apple lovers out there that wanted something different, something with a tasty zing to it. What better flavor to use then some classic butter rum? If you loved those old style candies then you will love how these two flavors will mix together to create a tasty new vaping experience and will make your room smell amazing! This flavor would be great for any fruit or dessert vaper, because it lies right in the middle of both categories. Sweet, but not too sweet, but fits the description exactly in what it will deliver with every single taste. Don't lose out on this opportunity, get a sample of this flavor today, or upgrade to our giant 120ml size featured in authentic chubby gorilla bottles!