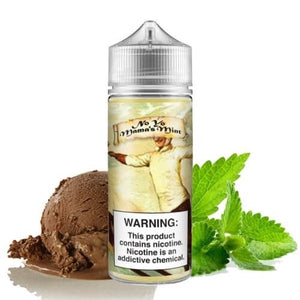 Flavor: Peppermint Chocolate Candy
Refined and perfected in the Swiss Alps, Peppermint Patties vape is a stellar mixture of everything pleasant in a smooth rich chocolate. It is infused with a crisp zing of soft peppermint to spicen up the warm and coating feeling that only chocolate brings to our tongues.
Inspired by travelling the swiss alps, Peppermint Patties infuses the richest dark chocolate with the delightful taste of peppermint making this eliquid the perfect year round vape. Enjoy this during the holidays and make your room smell delightfully cheerful or during a hot summer day, enjoy the sweetness of the chocolate infused mint to give you a full bodied vaping experience to go along with your summertime escapades.There is a great deal of people who vape that want a minty flavored juice, as well as a portion of people who really like chocolate vapes. This flavor will be a satisfying medium both vapers cravings by using just enough of each to create a well rounded e liquid. Looking for something to be an exact replica of those peppermint patty chocolates that you love so much? Try the High Class Peppermint Patty and get it from us for the most affordable price point available on the web.